March 7, 2016
The exhaust system on the car when I purchased it was probably original from the Y-Pipe forward. The Y-Pipe had rotted out on the driver's side but the exhaust looked OK from the catalytic converter forward. One of the previous owners had replaced the mufflers with Targa Style mufflers. During the 600 mile trip bringing the car home, they proved to be too loud for my taste. Having a conversation was difficult over the sound of the exhaust.
Since the Targa mufflers had to go and the Y-Pipe was rotted, I decided to install a Flowmaster Force II Stainless Steel cat-back system. I purchased the system directly from Flowmaster and it came with the Y-Pipe, mufflers and band-clamps.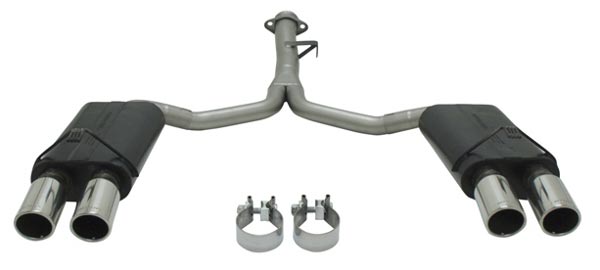 The only additional parts I needed was some replacement bolts for the Y-Pipe to catalytic converter flange.
The end result.